Springfest 19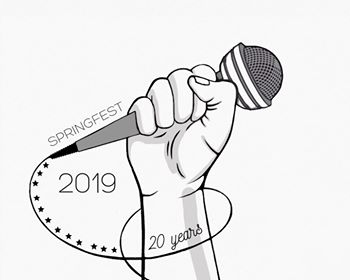 Springfest on Thursday 9 May 2019
20th anniversary of European School Brussels III
Theme of Springfest "Sustainable Europe"
Theme of the Opening Ceremony "Musicals"
Dear Parents, Dear Teachers and Dear Students,
Our school's Annual Springfest will take place again on Thursday 9 May 2019.
This is a day of celebration where everyone can come together and enjoy fun activities, watch performances and sports activities, as well as enjoy good food from the different food stalls.
You will find below and on our websiteall information relating to:
The Opening Ceremony for Parents, 8 May
The Springfest Day, 9 May: organisation, activities and access/security
Information related to the impact on the running of APEEE/OIB services (transport, canteen and extra-curricular activities) on the Springfest Day
Sale of tickets & bracelets
Request for volunteers
I. OPENING CEREMONY
Date
Wednesday 8 May 2019
Duration
7.00 pm to 8.30 pm – Entrance opens at 6 pm
Place
Sports Hall (gymnastics)
Access
Prior registration for parents at online opening ceremony registration form closes on Wednesday 8 May 2019 at 4 pm
Parking
Parents may have access to a limited number of parking places (150) on a first come-first, served basis.
Bracelet
A bracelet to attend the Opening Ceremony costs 10 €


sold on-line at https://apeeeb3.be/springfest-tickets
sold on-site during the event. No cash please.

---

Remark: Remark: Bracelets sold on-line will be handed out to the student (see point on-line tickets collection)
Food & Drinks

Possibility to buy drinks and some nibbles as from 6.30 pm and after the ceremony
Participants may buy tickets on site.
ii. SPRINGFEST Day
Date
Thursday 9 May 2019
Duration
8.30 am to 3.30 pm with exception of

"Junior Disco" from 4.30 pm till 6 pm
Music Café de 10.30 am till 6 pm

Access
Prior registrations at online Springfest day registration form closes on
Wednesday 8 May at 5 pm
Parking
No access
Programme
Nursery/Primary at THIS link
Secondary at THIS link
ACTIVITIES PLANNING
20th anniversary of the school
Our school will be celebrating its 20th anniversary this year!
In order to celebrate this event together, the community of the European school Brussels III invites you and your family to participate in various events and activities that reflect the school spirit, the values and the traditions of our school.
At 1.30 pm the school will proudly inaugurate our new solar panels and have an aerial photo taken of the school grounds and community.
"To celebrate the 20th anniversary of their school and imagine its future, secondary students wish to launch a survey and organise a round-table discussion. On the day of the Springfest, they will interview not only their classmates and their teachers but also the parents on the challenges the school community will have to face in the coming years. Come and help them imagine that future: they will hold a stand "EEB3 20 years and after?" on the bridge leading to the canteen building. They will process the results on the same day and publish them the next day during Topoï, when they will hold a debate for all secondary students representatives."
Primary & secondary activities
This year the range of activities for primary & secondary has increased.
In the morning, nursery and primary children will play games and undertake various activities under their teacher's supervision. The class shows will take place throughout the day on the podium.
From 11.30 am onwards, your children will have the possibility to have fun on jumping castles, play box, fishing ducks, chess, circus initiation and giant wooden games.
They can practice origami, have their face painted or attend a Kamishibaï (Japanese theatre). The children will also have the opportunity to do wall climbing and drive a cuistax, have fun in the escape room and in Ford Boyard and for the pupils of P5 the famous bumper cars are available.
On the other hand, the secondary students will offer you fashion shows; the finals of the football, handball and basketball tournaments as well as a music festival.
Your children will have fun on different activities such as wonderland, Fort Boyard, escape room, video games, wall climbing, driving cuistax, playing mini-football, mini-basketball and petanque, etc.
For the students of S1-2-3, there will be a discotheque from 4.30 pm to 6 pm. Students of S1-2-3 are allowed to stay ​on the school premises in ​dedicated area​s. The following activities will be at their disposal: video games, flight simulator and the Big wall.
In the meantime, parents are welcome at ​ the Music Café!!!!
A new activity is being organised, namely the "EEB3 Bookshop", during SPRINGFEST. The purpose is to stimulate a reading culture in the school. Therefore, we ask our students (nursery up to secondary) to donate one of their books (in good condition).
These books will then be on sale at a very attractive price (1-3 €) at the "EEB3 Bookshop" situated in the study room (A16 secondary building).
SIGNPOST
Plans will be displayed in the school to enable you to locate all the food/drinks spots and primary/secondary activities.
WASTE POLICY
In order to reduce the plastic garbage at the Spingfest, all disposals used at the Eurovillage are made out of biodegradable cardboard or PLA plastic.
If you want to contribute even more do not hesitate to bring your own mugs, reusable water bottle or plates!!!!
SECURITY RULES
Please be aware that:
All visitors must enrol on-line in advance on google.docs; the APEEE data protection policy applies
They should present a printed copy of their enrolment as well as their ID card
All bags will be subject to security controls
Access to school parking will NOT be possible on 9 May
III. APEEE AND OIB SERVICES ON Thursday 9 MAY:
Extra-curricular activities
No activities
Transport
a) Thursday's morning and first departure buses (at 3.35 pm) will run as usual
b) NO garderie buses will leave at 12.30 pm and at 3.35 pm;
c) Thursday's second departure buses are cancelled.
Canteen
Canteen or cafeteria service will NOT be provided on that day.
BUT please note the following:: a) Pupils in Nursery, P1 and P2, who are usually enrolled for the canteen on Thursday, will be offered a sandwich lunch.
b) Pupils from P3 to S7 must either bring in a packed lunch from home or can buy their lunch from the food stands (Eurovillage, BBQ, etc.).
OIB Nursery
No service will be applied
IV. SALES OF TICKETS AND BRACELETS
BYING TICKETS & BRACELETS ON-LINE
Tickets and bracelets for Springfest can be purchased on-line at https://apeeeb3.be/springfest-tickets from Thursday 9 April up until Sunday 28 April.
Tickets/bracelets can also be purchased on the day via Bancontact/ contactless/ Visa.
WE STRONGLY ENCOURAGE YOU TO BUY TICKETS AND BRACELETS ON-LINE IN ADVANCE in order to avoid queues and to limit cash transactions on the day.
Tickets give you the right to buy food, drinks and access to the games.
Bracelets give you the right to attend shows and the ones for nursery/primary give unlimited access to all activities.
PRICES
| | |
| --- | --- |
| Tickets | 5€ - 10€ - 20€ |
| Bracelets: | |
| Opening Ceremony | 10 € |
| Fashion show | 10 € |
| VIP Fashion show | 15 € |
| Junior Disco | 10 € |
| Nursery | 5 € |
| Whole day pass (Primary) | 10 € |
| Morning pass (Primary) | 5 € |
ON-LINE TICKETS COLLECTION
Nursery/Primary
Tickets and bracelets will be handed over to teachers in classes on Monday 6 May
Secondary:

| | | |
| --- | --- | --- |
| | Building A | Building B |
| 6 May from 12.30 pm to 2 pm | S1 - S2 | S3 - S4 |
| 7 May from 12.30 pm to 2 pm | S5 - S6 | S7 |

Remark

To collect advance tickets/bracelets, please bring your order number and identification (the school's 'D' card is sufficient if your child is collecting).

Tickets & bracelets not picked up will be transferred to the educational advisers of each year up until Wednesday 8 May till 12.50 pm
TICKET SALES ON SPRINGFEST DAY
Stand location
Primary playground
From 8 am until 3 pm
Rotunda (outside the canteen entrance)
From 8 am until 5 pm
Secondary playground
From 10 am until 3 pm
Gymnasium (end opening ceremony)
From 10.30 am till 11.30 am
Payment mode:
Bancontact /contactless / Visa
Remark
There will only be two stands available for cash payments for pupils only:
V. REQUEST (HELP) FOR THE VOLUNTEERS
The success of Springfest depends on parent volunteers to help on the day with the running of activities/food stands/ticket sales/etc. PLEASE VOLUNTEER even for just ONE hour of your time on the day. We need volunteers for:
SALE OF TICKETS & BRACELETS
Opening ceremony
Wednesday 8/5
From 6pm to 8pm
Primary playground
Thursday 9/5
From 8 am to 3 pm
Rotunda
(in front of the administration building
Thursday 9/5
From 8 am to 6 pm
Secondary playground
Thursday 9/5
From 8 am to 3 pm
Gymnasium
Thursday 9/5
From 10.15 am to 11.30 am
Contact Person: martine-steenhouwer@skynet.be
FOOD STANDS EUROVILLAGE
Stand

Section Food stands

Location

Canteen

Duration

10 am to 3.30 pm

CZ

Jakub Nice
Lucie Hruba

Jakub.NICE@ec.europa.eu
l.hruba@gmail.com

DE

Lisa Spitzer
Alexander Eisenberg

Lisa.spitzer001@gmail.com
alex.eisenberg@web.de

EL

Eleanna Stergiouli
Vasiliki Arampatzi
Fani Zarifopoulou

eleannas@yahoo.com
v1arampatzi@gmail.com
fani.zarifopoulou@gmail.com

EN

Philippa Stewart
Sinead Tierman

philippa.stewart@scarlet.be
sinead.tiernan01@gmail.com

ES

Maria José Castellanos

mjcasfue@gmail.com

FR

Marie Friedel

mariefriedelcastorini@gmail.com

NL

Julius Langendorff

Julius.LANGENDORFF@ec.europa.eu

SK

Eva Potocna

potocna@skynet.be

Remarks

How to deliver the food:
1) At the canteen on

Tuesday 7 May 2019, from 1 pm to 3.30 pm
Wednesday 8 May 2019 from 8 am to 3.30 pm

Deliveries must be marked as follows: "Eurovillage/section XX"
For any requests for access & parking at school, please inform Ms Steenhouwer at martine-steenhouwer@skynet.be prior to your arrival and by Monday 6 May at noon 2) At the Eurovillage section stand on Thursday 9 May, as from 8 am

Stand

Bar

martine-steenhouwer@skynet.be

Location

Primary court

Duration

10 am to 3.30 pm
VOLUNTEERS FOR PRIMARY ACTIVITIES
Contact Person: martine-steenhouwer@skynet.be
Face-painting from 12.30 pm to 3.30 pm
Origami from 12.30 pm to 3.30 pm
Bookshop EEB 3 from 10 am to 3 pm
Games organized for nursery & primary

We need volunteers to take care of two games, " fishing ducks " and ' giant wooden games" between 11.30 am and 3.30 pm
Kamishibaï (Japanese theatre).
Do you like screenplays? Do you adore fairy tales?
Do come and listen to our kamishibaï sessions (little Japanese theatre)
The place: C007 in primary (Resources Centre for Teachers)
The timing:
1:00 to 1:20 pm: French
1:20 to 1:40 pm: Greek
1:40 to 2:00 pm: English
2:00 to 2:20 pm: Czech
2:20 to 2:40 pm: Dutch